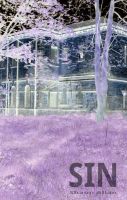 Sin
. A simple little word that conveys so much. It means lack of morals, the acting against that which is right and just, the suspension of good, and many other unpleasant definitions. People sin for fun, in anger, for profit, or simply on the spur of the moment without any lack of forethought or intent.
In the mind and imagination of Shaun Allan, however, Sin is a person, the hero and main character of a story by the same name as this leading man, if indeed, the term can be applied to such a one as Sin Matthews. There's a problem with Sin Matthews, though, that should be addressed early on here and it seems best to refer at this point to the third installment of The Pirates of the Carribean movies, starring Johnny Depp as one Captain Jack Sparrow. If you are one among the many who watched this particular movie you most likely were first puzzled in the beginning of it and then progressed to being bewildered, finally ending up completely confused and befuddled. At least until you reached the point in this movie where you finally realized one extremely important and salient fact - Jack Sparrow was quite insane. Once you understood that the entirety of the movie depended upon Capt. Jack's mental incapacity, then everything you had seen up to that point and indeed, everything after that as well, made perfect sense.
So is it with the main part of Shaun Allan's Sin. Much of it seems odd, if not outright perplexing, until you grasp that same fact here, that the narration of this tale is derived from the mind of Sin and Sin is "crazy as a loon". Yes. Thank you. Now it all makes perfect sense and you can continue on to read this bizarre tale of a mental patient within the confines of a mental asylum, at least until such time as Sin escapes, by means of teleportation, an ability inherent within him rooted as psychically as certain abilities within his sister, Joy, who appears to Sin variously throughgout this story, even though his sister committed suicide.
Wait. If his sister is dead, how then can she appear to Sin while he is yet alive. Is this merely another aspect of his insanity? Ahh, not exactly, but for the answers to that and many other questions certainly raised by this review you will need to opurchase a copy of Sin, by Shaun Allan. You didn't atually think this review would give away all the key points to this story, did you? Huh. You must be as crazy as Sin.
Sin, by Shaun Allan, at Smashwords and Amazon.
Pilot
by
Valerie Gaumont
. $2.99 from
Smashwords.com
Pilot is a contemporary Sci-fi story that merges elements of military conspiracy, technology and an ancient Guild of Families who can secretly navigate channels in the oceans to cross space. They have built a secret merchant society stretching through a multitude of universes, but the world is changing and soon their secrecy will be at an end.
Frightliner
by
Karina Fabian
. $2.99 from
Smashwords.com
Karina Fabian with Colleen Drippe' When Jay Carlson has a run in with a strange, dark truck on a lonely road, his life goes south. He sees things that others don't see. He learnes things he wishes he could forget, and he is darawn into an ancient battle he wouldn't have believed in even a day in the past. This time, even country music and the open road can't save him.
Stranglehold
by
Jack Ketchum
. $4.99 from
Smashwords.com
Lydia McCloud meets Arthur Danse at a wedding party in Plymouth, N.H., and she thinks he's a man she could grow to love. Arthur sees things differently. In Lydia, he sees the sort of woman people always want to protect. He decides he's going to show her "she wouldn't always be protected."
To Tell the Truth
by
Faye Tollison
. $4.50 from
Smashwords.com
When Anna Kacey met Senator Kenneth Levall, her world soared. At least until it collapsed. Until that fateful day when the gun she held fired, and the senator fell on the floor at her feet and died. Undercover cop, John Mentz fell deeply in love with Anna. The murder of her sister and the man she loved on trial for that murder urged her to stand up and tell the truth.
* * * * *

Free from his enslavement, the vampire known as Phoenix searches for the way to stop his former master from enslaving all mankind. He discovers powers within him not common to other vampires and meets the most ancient of all his Kind. But werewolves try to keep him from success. Then he is once more trapped by those he once served and placed in a tomb that will be for him forever the dark grave.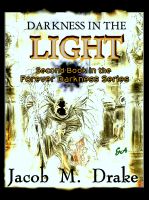 Darkness in the Light
Ebook Price: $4.99 USD. 140520 words. by
Jacob M. Drake
and published by
Crescent Suns e-Books
on November 29, 2010
Available at both Smashwords and Amazon.
Nic Draca wakes in a puddle in an alley, a tattoo etched on his face. Worst of all he finds he now has a taste for blood - human blood. As he discovers what happened to make him this way he finds himself becoming entrenched in a world of darkness he never knew existed. Both vampires and werewolves are real in the world he thought he knew. Where does he fit in? Second in the Forever Darkness Series