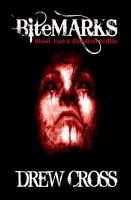 More vampire fiction? No, not really. I mean, yes, the description of the book on the page where it can be purchased and downloaded says it's about vampires, but really it isn't - not at all. Check out this portion of the description:
"The vampires in 'BiteMarks' are human, as real as you and me. With immensely strong jaws and capable of extreme violence, they have, of course, long fangs and a desperate - and sometimes depraved - craving for blood that some can control and some cannot."
And perhaps this portion, too:
"Shane Marks is a cop and an outsider. He is a vampire (he prefers the less loaded term 'blood-fetishist'), with a horrific and haunting past, facts he has gone to great lengths to hide."
This last part is perhaps the most honest and correct of all the lines in this description, since the main character, as well as all others in this story depicted as "
vampires
" are exactly what the aforementioned words indicate -
blood fetishists
, not vampires. Not vampires at all. No one in this story sleeps in a coffin or ceases moving when the sun rises. No one lives strictly off drinking blood, though those involved in this "fetish" certainly enjoy the taste as well as the sight of that red life-fluid. No one is immune to death other than having a wooden stake driven through his heart or exposed to direct sunlight. Why then does the author give the impression in his description that these actually are vampires? Hell if I know.
Still, I found
BiteMarks,
by
Drew Cross
to be an interesting, if not engrossing read. It's about a cop, Shane Marks, who not only is involved in a murder investigation involving someone who seems to have been bitten by something akin to a vampire, but is himself a "blood fetishist" who enjoys drinking blood and engaging in pseudo-sexual play involving cutting and lots of blood-letting. The insight into the lives of these who enjoy such a bizarre ritual as involving the letting of blood is interesting enough to warrant reading
BiteMarks
. I simply would have preferred having the description entice me with the facts, not that which does not exist within this book. If it's going to say there are "
vampires
" involved in the story, then I want to read about actual vampires, not blood fetishists.
BiteMarks
, by
Drew Cross
and found
FREE
on
Smashwords.com
, is an engaging story about police work as well as blood fetishists and gives us an interesting look at the tormented background (childhood) of the main character and perhaps why he decided to become a police officer in the first place. As an author
Drew Cross
does a fine job portraying his characters and telling their story. Perhaps a little revision is in order on the book description to make it more obvious what readers will find inside.
* * * * *
God's Country
by
Cara Ellison
. $6.99 from
Smashwords.com
When an experimental aircraft crashes into an anti-government militia compound in Texas, the FBI's elite Hostage Rescue Team is activated. Julia, the team's first female agent, is shocked to find Jon Fielding on scene. In order to stop the militia's catastrophic plans, Julia must put her life and the lives of her team in the hands of the man who once betrayed her.
Man From the Moon
by
Richard F. West
. $3.00 from
Smashwords.com
The crash landing of a suspected UFO near a small isolated town in Montana threatens the sanity and the religious faith of the people of the community as they struggle to understand the impact this incident will have on their lives.
Sunset
by
Steven Katz
. $1.99 from
Smashwords.com
They were right. Global warming melted the ice caps and the world united... and survived. Now, a generation later, can that unity sustain itself for Earth's next challenge, or is this the beginning of humanity's final chapter?
Alexandra
by
Declan Stanley
. $4.95 from
Smashwords.com
The story of one man's sexual obsession, miscommunication and heart break with "the love of his life". And of him ultimately finding true love. When Kevin meets Alexandra he thinks he knows what true love is. It is not until he loves Jasmine that he really finds true love.
Sistienn
by
Wendy Brumback
. $0.99 from
Smashwords.com
The dark love of a vampire can be exciting - or deadly. Sistienn is a vampire of the worse kind, she enjoys her kills. But, when handsome Alex enters the scene her only thoughts are for him, to control him as an immortal, her lover and slave, forever.
* * * * *
From Jacob M. Drake


Darkness in the Light (Forever Darkness)
by Jacob M. Drake
Rebirth of the Gods: Book One - The Powers That Be
by Jacob M. Drake
Parallels (The Many Worlds of the Solarian)
by Jacob M. Drake
The Complete Book of B.A.B.E.S.
by Jacob M. Drake
Buy
: $5.95 -
Two complete eBooks in one huge volume.
Pumpkin Jack Skull and Other Tales of Terror
by Jacob M. Drake
XKALIBUR (The Many Worlds of the Solarian)
by Jacob M. Drake
Dark Angel: Fallen
by Jacob M. Drake
Forever Undead (Forever Darkness)
by Jacob M. Drake
Forever the Dark Grave (Forever Darkness)
by Jacob M. Drake
Superion (A Coming of Heroes)
by Jacob M. Drake


From Jackson Williams
* * * * *