Vampires are vampires and never are they any different, right? Well, unless you have vampires that walk around in broad daylight or drink animal blood or cold blood from the hospital, but that's a rant for another post best left unsaid for now.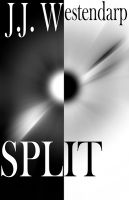 In this new novella,
Split
, by
J.J. Westendarp
, vampires abound all over the world and there are those who are hunting them (of course - who wouldn't?). Erika is new at this game. So new she has a mentor teaching her how to use the talents inherent within her that allow her to kill a vampire with her mind alone - something no one expected. When Erika strikes out on her own one night her mentor, Mitch, is not happy with her, but soon Mitch brings someone else around to help with Erika's training and then Mitch disappears.
The secret Mitch is keeping from Erika changes their relationship to an extreme extent. And Adonis, the new trainer Mitch has brought around, seems to be filled with his own set of contradictions in vampire hunting. What is Erika to do about all the secrecy and disappearances from those who are supposed to be training her?
Erika finally learns Mitch's secret - and it is not something that causes her to be all warm and fuzzy inside.
In
Split
, by
J.J. Westendarp
, we see a slightly different side of vampires and those who hunt them, though I have to admit that the blood-suckers in this story seem to be somewhat weak for what they are. Almost too human for my tastes, but at least they don't walk freely in the daylight.
* * * * *
New eBooks You Might Like To Read:
The Collection
by
Erik Lynd
. $4.99 from
Smashwords.com
Mark Holloway never asked to grow up on the road, dragged from one city to the next. He hoped the moving would stop now that they have returned to her hometown. But not everything is as it seems in the peaceful seaside town of Hannity on the Coast. With his mother's health failing and a killer on the loose Mark must find the strength to overcome his dark family tree.
Torture in the Garden of Eden
by
Mary Walkden
. $6.99 from
Smashwords.com
From a cell in the Hanoi Hilton, a US POW embarks on an incredible insane psychological journey in order to maintain his sanity, in the process creating a truly unique, unorthodox relationship with both God and the devil.
Street Life: My Story
by
Mary Walkden
. $6.99 from
Smashwords.com
The author shares his time living on the streets of New York City, where all that mattered was his next hit, and nothing was too sacred to stand in the way. Acting in porn movies and selling sex to high-profile figures helped feed his habit, until he knew it was time to get help.
Divine Justice
by
Cheryl Kaye Tardif
. $3.99 from
Smashwords.com
CFBI Agent and Pyro-Psychic Jasi McLellan battles a serious infection that threatens to claim her life. Slipping in and out of consciousness, she remembers the Parliament Murders... One by one, members of Ontario's Parliament are disappearing, only to be found days later, disoriented and drugged. Or worse―dead.
* * * * *
From Jacob M. Drake

Darkness in the Light (Forever Darkness)
by Jacob M. Drake
Rebirth of the Gods: Book One - The Powers That Be
by Jacob M. Drake
Parallels (The Many Worlds of the Solarian)
by Jacob M. Drake
The Complete Book of B.A.B.E.S.
by Jacob M. Drake
Buy
: $5.95 -
Two complete eBooks in one huge volume.
Pumpkin Jack Skull and Other Tales of Terror
by Jacob M. Drake
XKALIBUR (The Many Worlds of the Solarian)
by Jacob M. Drake
Dark Angel: Fallen
by Jacob M. Drake
Forever Undead (Forever Darkness)
by Jacob M. Drake
Forever the Dark Grave (Forever Darkness)
by Jacob M. Drake
Superion (A Coming of Heroes)
by Jacob M. Drake
* * * * *