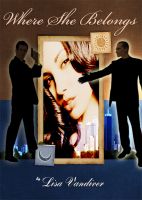 While reading this latest eBook I had a very tough time deciding exactly what genre I was reading. It began sounding much like any other romance story: a man and woman meet in an unusual place (for at least one of them), begin to engage in some harmless flirting, woman knocks man down a peg-or-three, they flirt some more and everyone else realizes they are falling in love and should be together, but they steadfastly keep their distance.
Then the rest of the story began entering into the plot and I found I was reading something that was building into an interesting mystery/crime drama featuring a handsome attorney who is also doing work for the FBI and a gorgeous young advertising executive/business owner who is trying not to fall for the attorney while independently each realizes soemthing is wrong with key people in their lives. Something that could cause serious trouble and get people killed.
Attorney Matthew Kingston is beginning to realize his younger brother might be connected to a mob family and engaging in criminal practices, up-to and including murder.
Advertising executive Justina Lindsey is begining to see things about her boyfriend and almost fiancee that suggest he is not only the son of a crime boss, but actively involved in his father's criminal activities.
Both protagonists in this story must deal with the problems in their lives while also trying to decide if the other is actually the right person for them to be involved with. Certainly Justina decides her current boyfriend needs to be dropped from her life - only he doesn't want to be an ex-boyfriend and has the power (thugs, guns, intrinsic meanness, etc.) to carry out any threat he makes against Justina when she does try to dump him. Matthew Kingsley finds dealing with the sins of his brother much more difficult - does he turn his brother in to the FBI or local police department, since his brother refuses to heed his warnings and extricate himself from the criminals he's working with? Was his brother responsible, or at least involved with the brutal deaths of two undercover FBI agents he was previously seen with?
In
Where She Belongs
, by
Lisa Vandiver
, we discover a convoluted storyline as well as dramatic plot involving two star-crossed lovers whose passions might lead each of them into more trouble than they already have on their own.
I'll admit the author has a slightly rough writing style when it comes to the dialogue spoken by her characters, and there could be a little more intense editing process involved to make this a great story, but the storyline itself runs well and is easy to get involved with. Once you begin reading you might find yourself wanting to know more about each of the main characters and rooting for them as they resolve the conflicts the author throws at them at every new turn and twist in the plot.
Where She Belongs
is written by a new indie author from
Smashwords
and I will say that as soon as
Lisa Vandiver
works the kinks out of her writing style she will be someone to keep an eye on for future stories.
Where She Belongs
, by
Lisa Vandiver
- available now at a ridiculously reasonable price at Smashwords.com.
* * * * *
New eBooks You Might Like To Read:
Movies Magnificent: 150 Must-See Cinema Classics
by
John Howard Reid
. $4.99 from
Smashwords.com
All Reid's books are interesting and useful. This one deals with an impressive range of movie landmarks, including credits, reviews and interesting background details on films like Algiers, Anna and the King of Siam, Bells of St Mary's, Best Years of Our Lives, Blood and Sand, Blossoms in the Dust, Citizen Kane, Cover Girl, Dinner at Eight, etc. Reid's notes on the films are totally fascinating.
The Case of the Missing Mushrooms
by
Tor Richardson
. $0.99 from
Smashwords.com
Roused from his warm bed, Stone-Arm Sam enters Fairy Town to investigate a burglary at Miss Moffett's Mushroom Shop, a favor for a friend. Snubbed by the fairy police (s.o.p. for any dwarf), he soon learns that Moffett's enchanted mushrooms have gone missing. But nobody ever mentioned magic mushrooms. Retrieving them would not be a quick trip. And the burglar, once found, was sure to object.
Class Ass & Sexy Vampires, Beautiful Demons
by
A.J. Hamilton
. $2.99 from
Smashwords.com
Together in one volume...a compendium of A.J. Hamilton stories. Class Ass and Sexy Vampires, Beautiful Demons are brought together with the story "Melissa Goes to the Gym" from the upcoming Super Busty Tales!
The Broken Sword (Halcyon #2)
by
Joseph Robert Lewis
. $2.99 from
Smashwords.com
When they tried to conquer the New World, the Espani lost everything: soldiers, ships, wealth, and even their faith. But Don Lorenzo Quesada believes an ancient holy relic will restore his country to prosperity and honor, unless the military finds it first.
Sex With The Proper Stranger
by
. $0.99 from
Smashwords.com
Matthew Evans knows the fine art of seduction. He also knows how to play the pick up game. Every week he has beautiful women throwing themselves at him. What's a young, unattached man to do but enjoy all that is offered?
Roencia
by
Eldon Harris
. $1.99 from
Smashwords.com
Roses are magic. Some can heal the sick. Others, let you literally see through the eyes of another or relive a moment from the past. However, there is only one rose that serves as the life-blood of the land, the Scarlet Rose. Our heroes Derran & Aaron use the roses in remarkable ways to defeat the dark elves. An evil race causing the extinction of elves, and who seek to destroy everything.
* * * * *
From Jacob M. Drake

Darkness in the Light (Forever Darkness)
by Jacob M. Drake
Rebirth of the Gods: Book One - The Powers That Be
by Jacob M. Drake
Parallels (The Many Worlds of the Solarian)
by Jacob M. Drake
The Complete Book of B.A.B.E.S.
by Jacob M. Drake
Buy
: $5.95 -
Two complete eBooks in one huge volume.
Pumpkin Jack Skull and Other Tales of Terror
by Jacob M. Drake
XKALIBUR (The Many Worlds of the Solarian)
by Jacob M. Drake
Dark Angel: Fallen
by Jacob M. Drake
Forever Undead (Forever Darkness)
by Jacob M. Drake
Forever the Dark Grave (Forever Darkness)
by Jacob M. Drake
Superion (A Coming of Heroes)
by Jacob M. Drake
* * * * *