Most of the books published by Crescent Suns have been within the horror or fantasy genres. But those aren't all we publish. With the addition of
Jackson Williams
(Jack to his friends and fans) to the CSP lineup we also have hard core adult erotica.
Isn't there already "hard core adult erotica" with some of the books published by Jacob Drake? In fact, most fans of CSP books will notice that there is usually a lot of sex in most of the books we have published thus far. True, but Jackson Williams takes erotica to a whole new level with the two collections of screenplays he has compiled. Each of these books,
Meri XXXMas Cherry
and
Chained With Brats
, has been formatted by the author in order to provide screenplays that if desired, may be taken directly from the books and printed out to be used as scripts for making adult movies. Naturally the making of such from these books cannot be accomplished without first contacting the
Crescent Suns Publishing
offices and making a deal for the movie rights on any one of the stories contained within these two collections. And we are open for negotiation.
What Jackson Williams has provided goes beyond the occasional sexuality contained in most of Jacob Drake's books (With the exception perhaps of
Rebirth of the Gods
, which is fraught throughout with sex scenes) and gives us a glimpse into dysfunctional family life, dating, relationships, life after death - or at least the grave - and many other facets of life most of us might not normally touch upon in our own daily lives or even in our reading material.
Check out
Meri XXXMas Cherry
, about a young college coed who decides she's spent enough time as a virgin and wants to lose her virginity in a spectacular way - with surprising results for all involved. This story is both touching and titillating to the male (and perhaps even the female) libido.
The sequel to this first story,
Westward Hos
, follows the title story in this book, showing what happens when the three main characters of the first story venture to Hollywood in order to star in their first adult movie, based upon their exploits in the first story.
Then we have
Chained With Brats
, starting off with two more tales of dysfunctional families, only perhaps a bit more dysfunctional than most. Viewers of 1980s sitcoms will quickly recognize the family within these two screenplays as being a satirical adult parody of a popular show of that period. Jackson Williams decided this is what that TV family would have been like had the producers allowed it to be X rated.
We hope you enjoy
Necrillia,
the Mistress of the Dead
and her wild, hard core - and very humorous - sexual antics of necrophilia as she introduces each of the stores contained within the
Necrotales
section of
Chained With Brats
. We certainly did. Jack is considering devoting an entire book to Necrillia and her sexcapades among the dead and dying. We're looking forward to publishing that book. Now, if Jack would just begin writing it, hmmm?
Whether adult erotica is your style or not, Crescent Suns Publishing has books for just about everyone and soon hope to introduce a new line of Romance books from another new author in the field.
Keep reading and if you're an author, keep writing.
Jacob Drake
CEO - President
Crescent Suns Publishing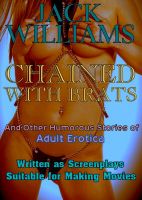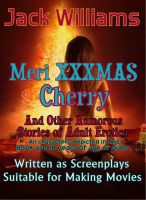 Current Books Available