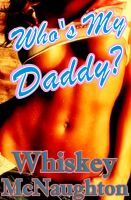 I know the last eBook I reviewed was of the erotica genre, but it was submitted to me and it was so well written I had to review it here. This one is no different and like the last in that it is well-written and done in a style that evinces the passions that many feel and have to reveal or burst asunder; it also is published under the erotica genre.
"
Where's My Daddy?
" is a provocative tale from the point of view of Jennifer, the main character in this story by first time indie author
Whiskey McNaughton
. Ah, right. Nickname or pen name, perhaps? Anyway, the story is told in the first person and does a great job of getting the personal view across in everything from the dysfunctionality of Jennifer's family to her discovering she's actually adopted, which for her is a good thing, because she's always been somewhat attracted to her dad. Now she knows why. Perhaps something inside her had always told her that there was more to this man than she knew of him as her father figure?
This story is definitely not for anyone under the age of 18 and perhaps not for many over that age who feel there are certain subjects that have barriers up protecting them and those barriers should never be breached. This is most likely one of those taboo areas where most societies would say, "Not according to our laws", but then, hasn't it long been said you can't legislate morality? I know I believe that. Politicians might make laws about many things, but the moral views I, or anyone else, holds should not be among them.
In "
Who's My Daddy?
"
Whiskey McNaughton
tells a riveting tale of lust and passion and dreams fulfilled, even if they are somewhat in a grey area of morality. Sex is ex and none can deny its thrust, er, ah, I mean desire, right?
* * * * *
Other eBooks from Smashwords you might enjoy reading:

Bug, Naked & Horny
by
Jackson Williams
. $0.99 from
Smashwords.com
What would you do if you suddenly sprouted dragonfly wings and found you could spit acid out your ass? Those problems are bad enough for Paula Sterlington, but she's also now only four inches tall, homeless and buck naked. Then she meets Mike Henderson who shows her size really doesn't matter, as long as the sex is great. And Paula has developed an insatiable lust for seriously hot horn-dog sex.
Watermelon Knights With Trueberry Hearts
by
Erik Bundy
. $4.99 from
Smashwords.com
An Iguana, a Texas Toad and a Swamp Rat. They laugh, they cry, they sing country songs. Be prepared for a new perspective on the world, one that conquers it from close to the ground. And chuckles while it pokes it with a sharp stick. It's the story of Endraq, a jungle iguana, who's captured and trucked north. Things are bad in the iguana box but they get worse, and Endraq must find a way out.
Lipstick and Leather: Three Sexy Cowboys, Three Sexy Tales
by
Cheyenne McCray
. $2.99 from
Smashwords.com
Cowboy Up: Anna gives Mike, a champion bull rider, the ride of his life. Now he just has to figure out how to keep her. Rough Rider: after inheriting her father's ranch, Brianna learns a thing or two from Joe about running a ranch and letting an alpha cowboy take control. Back in the Saddle: Susan left nine years ago, breaking Gray's heart. When she returns, he's not about to let her go.
Kate's Return
by
Rachel Cray
. $0.99 from
Smashwords.com
Kate is recovering from a disastrous five-year on-off affair with a nasty guy. Once the relationship is firmly severed, his friend declares his love for her - although she's attracted to the charms of the brother of an old school-friend. But is he all that he seems? And could she really be happy living with him for the next sixty years? And what about her ex-lover's talented friend?
Her First Time - Real Women Share the Details of Their First Girl/Girl Experience
by
Michael Flaherty
. $2.99 from
Smashwords.com
Her First Time - Real Women Share the Details of Their First Girl/Girl Experience Full length TRUE stories submitted from women who invite you to share the pleasure (and the details) of their first-time erotic encounters with another woman. Experience bi-curious girls having their first 'taste' and finally fulfilling their deepest fantasies....
Betwixt Natasha
by
e v daymuir
. $2.99 from
Smashwords.com
A married young couple awake to find they have exchanged bodies. For the priapic Barrie it provides an ideal opportunity to explore Natasha's sexuality. Natasha, however, is determined to demonstrate that she can control his libido. This proves an impossible task and she finds herself complicit in his philandering and the prime murder suspect of one of his many conquests.
Swingers: Gang Bang the Bride
by
Rachel Boleyn
. $2.99 from
Smashwords.com
Sam and Sara's relationship has been taboo from the start. Almost twice his bride's age, Sam's friends can't figure out how he managed to get such a hot young piece of ass. In town for the wedding, when Sam's three best friends from college find out he doesn't mind letting his wife spread her legs for other men, they decide to give the bride a gang banging wedding gift she'll never forget!
The Promise of Silk
by
Lilith Duvalier
. $3.99 from
Smashwords.com
An airship pirate who ran away from his soul crushing London life, finds himself at an infamously decadent carnival out in the English countryside. A fellow pirate does his best to convince him to go and sample the lovely women of The Row, but Buck isn't sure he ever wants a woman again.
The EX-Files
by
Cat Johnson
. $2.99 from
Smashwords.com
One woman's search for a soul mate leads instead to a sexual journey of exploration and to finding love in an unexpected place.

Sexposing SupraBabe
by
Jackson Williams
. $0.99 from
Smashwords.com
Maureen Donnigal has found herself endowed with super powers unlike any Super before her. Her only restriction is she can never have sex with men, only women. So what is she supposed to do when the Irish mob in Chicago kidnaps her parents and holds them hostage until she agrees to have brutal, wild sex, all recorded on DVD in order to discredit her to the world and ruin her reputaion?