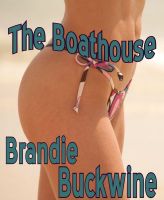 This is a bit different for this review blog. Sure, I've reviewed short books and even short stories here and certainly had my share of erotica on these pages, but the subject matter of this story is a bit beyond what has graced these pages before. SO if you are any at all offended by material that touches on - okay, perhaps rips right through the boundaries of "moral deceny" set by most "cultured" societies today, please do NOT read any further. That said, I'll coninue.
I discovered a strange little gem on Facebook the other day and was pleased to read it. All I was doing was reading a story for another author who wanted to know what others thought before publishing her book. The book is titled,
The Boathouse
, by
Brandie Buckwine
. Hmmm, right there the author name should give you a clue as to what direction this story is about to turn. The kind of author name I like. It has a flair to it.
The Boathouse
deals with three people who are cousins and played a lot together as children. As teens they "experimented" in certain forbidden areas with one another. Two of these cousins are male, the other is female. Fortunately they all get along. Perhaps too much so? That's up to the reader to decide. Then they grow up and don't see each other for a lot of years, at least the girl in the story doesn't see her male cousins. We don't know if they saw each other, but that's not important to the story. What is important is that they all get together as adults for a family reunion and get to meet up - all three together - after all these years.
Becky is the female lead in this story, with her cousins being Mark and Julian. As children they once skinny-dipped together in the lake adjacent to their grandparents' property. Well, Becky skinny-dipped. The boys only watched, after they had tricked her into thinking all of them were going to be swimming sans clothing. Boys will be boys, eh? Heh. As adults at the family reunion Mark decides he and Becky should re-enact that moment that defined his sexuality in a younger life. Only now there's a difference. He knows a lot more about sex and what he wants from his female cousin.
All right, I have no intention of spoiling your reading pleasure of this book, and I do mean pleasure, so I'll stop there on telling you about the contents of this book.
The Boathouse
is a great adventure into the forbidden passion of adulthood, even among family you get along well with. It's a topic that's taboo, but should it be? Certinaly there are many cultures where cousins are not only expected to marry, but are the best choices for spouses, since they ensure the purity of the bloodline. Certainly the Bible has many instances where the main people involved chose life partners from among their respective family members. Jacob going back to his mother's hometown and taking as his bride his cousin Rebecca springs to mind as one noteable example.
The Boathouse
takes everything a bit further than simply marrying within a family, however - it involves a merging of three people, all uniquely related and interacting with one another in a way that guarantees to "lift your spirits", if you know what I mean. At least if you're male.
The Boathouse
dares to break down the barriers around one of the most forbidden aspects of sexuality and does it in a way that is both enjoyable and pleasurable. And I'm referring to the readers now, not the story participants.
Brandie Buckwine
is an excellent storyteller with a great story to tell. Oh, and lest I forget to mention - this story is
only
99 cents
on Smashwords. That's right. You not only get exciting reading (in more ways than one), but you get it for
only
99 cents
. Rush on over to
Smashwords
and pick up your
99 cent
copy of
The Boathouse
, by
Brandi Buckwine
, before they're all gone. Heh.
* * * * *
Other eBooks from Smashwords you might enjoy reading:

Bug, Naked & Horny
by
Jackson Williams
. $0.99 from
Smashwords.com
What would you do if you suddenly sprouted dragonfly wings and found you could spit acid out your ass? Those problems are bad enough for Paula Sterlington, but she's also now only four inches tall, homeless and buck naked. Then she meets Mike Henderson who shows her size really doesn't matter, as long as the sex is great. And Paula has developed an insatiable lust for seriously hot horn-dog sex.
Watermelon Knights With Trueberry Hearts
by
Erik Bundy
. $4.99 from
Smashwords.com
An Iguana, a Texas Toad and a Swamp Rat. They laugh, they cry, they sing country songs. Be prepared for a new perspective on the world, one that conquers it from close to the ground. And chuckles while it pokes it with a sharp stick. It's the story of Endraq, a jungle iguana, who's captured and trucked north. Things are bad in the iguana box but they get worse, and Endraq must find a way out.
Lipstick and Leather: Three Sexy Cowboys, Three Sexy Tales
by
Cheyenne McCray
. $2.99 from
Smashwords.com
Cowboy Up: Anna gives Mike, a champion bull rider, the ride of his life. Now he just has to figure out how to keep her. Rough Rider: after inheriting her father's ranch, Brianna learns a thing or two from Joe about running a ranch and letting an alpha cowboy take control. Back in the Saddle: Susan left nine years ago, breaking Gray's heart. When she returns, he's not about to let her go.
Kate's Return
by
Rachel Cray
. $0.99 from
Smashwords.com
Kate is recovering from a disastrous five-year on-off affair with a nasty guy. Once the relationship is firmly severed, his friend declares his love for her - although she's attracted to the charms of the brother of an old school-friend. But is he all that he seems? And could she really be happy living with him for the next sixty years? And what about her ex-lover's talented friend?
Harvesting Rue
by
Candace Smith
. $5.95 from
Smashwords.com
Tall, muscled and powerful, the Lamerians were warriors, but few women of their race remained. With unquenchable sex drives, life alone was unbearable, so they "harvested" near-compatible lifeforms from other planets and kept them as sex pets. When they decided to harvest Earth, Rue found herself collared and a prisoner.
Her First Time - Real Women Share the Details of Their First Girl/Girl Experience
by
Michael Flaherty
. $2.99 from
Smashwords.com
Her First Time - Real Women Share the Details of Their First Girl/Girl Experience Full length TRUE stories submitted from women who invite you to share the pleasure (and the details) of their first-time erotic encounters with another woman. Experience bi-curious girls having their first 'taste' and finally fulfilling their deepest fantasies....
Betwixt Natasha
by
e v daymuir
. $2.99 from
Smashwords.com
A married young couple awake to find they have exchanged bodies. For the priapic Barrie it provides an ideal opportunity to explore Natasha's sexuality. Natasha, however, is determined to demonstrate that she can control his libido. This proves an impossible task and she finds herself complicit in his philandering and the prime murder suspect of one of his many conquests.
Swingers: Gang Bang the Bride
by
Rachel Boleyn
. $2.99 from
Smashwords.com
Sam and Sara's relationship has been taboo from the start. Almost twice his bride's age, Sam's friends can't figure out how he managed to get such a hot young piece of ass. In town for the wedding, when Sam's three best friends from college find out he doesn't mind letting his wife spread her legs for other men, they decide to give the bride a gang banging wedding gift she'll never forget!
The Promise of Silk
by
Lilith Duvalier
. $3.99 from
Smashwords.com
An airship pirate who ran away from his soul crushing London life, finds himself at an infamously decadent carnival out in the English countryside. A fellow pirate does his best to convince him to go and sample the lovely women of The Row, but Buck isn't sure he ever wants a woman again.
The EX-Files
by
Cat Johnson
. $2.99 from
Smashwords.com
One woman's search for a soul mate leads instead to a sexual journey of exploration and to finding love in an unexpected place.

Sexposing SupraBabe
by
Jackson Williams
. $0.99 from
Smashwords.com
Maureen Donnigal has found herself endowed with super powers unlike any Super before her. Her only restriction is she can never have sex with men, only women. So what is she supposed to do when the Irish mob in Chicago kidnaps her parents and holds them hostage until she agrees to have brutal, wild sex, all recorded on DVD in order to discredit her to the world and ruin her reputaion?